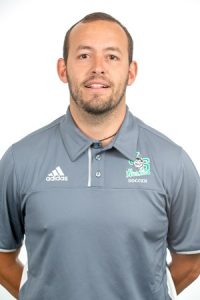 JERSON BARANDICA-HAMILTON – Program Director, U17 Head Coach
Key Coaching Certifications:
CSA National B License (2017)
CSA Provincial B License (2015)
CSA Provincial C License (2015)
NCCP Coaching Level 1 & 2 (2014)​
Key Accomplishments as a Coach:
Coach of the Year Award – Canada West Conference (2015)
Saskatchewan Soccer Senior Coach of the Year (2015 & 2016)
Canada West Bronze Medalist (8-3-3 Season Record) in 2016
1st Program Appearance at CIS National Championships (Acadia 2016)
3 Consecutive Appearances at Final 4 stage of the Canada West Championships
6 players recognized as CW All-stars & 1 All-Canadian
Prairie Division Season Champions (10-3-1 Season Record) in 2015
Hosted Final 6 Stage for 1st time in Program History in 2015
18 players achieved All-Academic Status in 2015 & 2016 Combined.
"Over the last five years of having the opportunity to lead the U of S Women's Soccer Program we have achieved many program firsts and I have had the opportunity to work along the way with some fantastic coaches and student athletes. What motivates me and excites me about the future of our Program and this new initiative is the opportunity to prove that Saskatchewan has talented athletes that can succeed at the University level through hard work, perseverance and enjoyment of the process of becoming the best that you can be as a student, an athlete and above all an individual. This program is a very important stepping stone for us to connect and create a synergy from our current varsity program to the up and coming future athletes which we hope one day aspire to play for the green and white!
ABUMERE OKONOFUA – U17 Head Coach
Abumere "Abu" is a proud Huskie alumni playing 5 years for the green and white as a keeper and defender with the men's soccer team helping them to their first silver medal finish. Prior to joining the Huskies, Abu played in the UK with Sabanoh 97 FC. He continues to compete on the national stage with the HUSA Alumni (soccer) and Olimpia SK FC (futsal).Abu's passion for coaching starts at the grassroots level. He has worked with various camps over the years and has coached the Aurora Soccer Club U12, U14BP, and U16BP age groups in Saskatoon. After helping the Huskie men's soccer team to their first Canada West banner as an assistant coach, Abu is now entering his fifth season with the Huskie Women's Soccer program. He is also the proud head coach of SK Impact FC which consists of many Huskie women's soccer alumni and has competed at nationals the past 3 years.
Abu prides himself in promoting the well-being of individuals while also enjoying the positive development of athletes within the game and within the community.
Key Coaching Certifications:
Making Ethical Decisions, Respect in Soccer, Learn to Train, Soccer for Life Certification
NCCP intro to competition A & B (Modules in progress)
CSA C License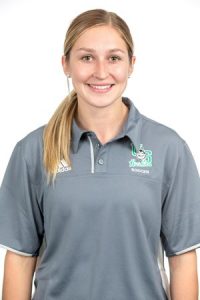 ERICA PARENTEAU – U17  Assistant Coach
Erica wore the green & white for the Huskie Women's soccer team from 2011-2015. Starting all 5 years, Erica was a defensive force on the Huskie back line and was a playmaker offensively sitting tied for 5th all-time in career assists. During her time with the Huskies, she helped the team to a Canada West Bronze medal. In 2018, Erica joined the Huskie Women's Soccer coaching staff as an assistant coach.
On top of her role with the University squad, Erica is in her second year with Junior Huskies as  an assistant coach with the U17 program. Reflecting on her early years as a Huskie, she recognizes that in her first season, "I found it was a big learning curve to play at this level with and against players that were several years older than me. I think the Jr. Huskies program is a great opportunity to prepare yourself for the potential of playing at the University level." Erica is excited share her first-hand experience and assist young girls in skill development and preparing them for the next level.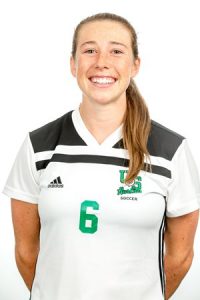 JACKSON WIEGERS – U15 Co-Head Coach
Jackson completed her fourth season in the midfield with the University of Saskatchewan Huskies in 2018. As captain with the Huskie squad, Jackson helped the program claim a Canada West bronze medal in the 2016 season and earn its first ever appearance at USport Nationals. Off the field, Jackson has been named to the USPORTS Academic All-Canadian and Huskie All-Academic team all 4 years of her career. Playing soccer at the University level pushes her to be a better person everyday, whether it be on the field, in the classroom, or in the community.
Over the past 4 years, Jackson has worked with a variety of youth teams.  She was an assistant coach for a U12 premier girls soccer team and more recently led a U10 girls team as head coach. Jackson is excited to be part of the Junior Huskie program and to help youth realize the value of sport by sharing her skills, knowledge and passion for the game. In her own words, "I am grateful to be part of a program that champions the philosophy of developing good athletes, and good people."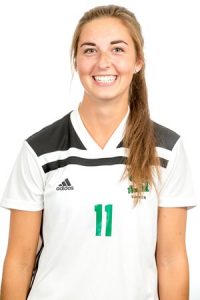 MAYA GABRUCH – U19 Assistant Coach
Joining the Huskies in 2016, Maya made an immediate impact as a rookie winger and helped the team to a Canada West bronze medal and a sixth place finish at Nationals. Over the past two seasons, Maya has continued to contribute offensively scoring 4 goals and adding 2 assists in her second and third year with the Huskies.
In her second year with the U15 Junior Huskie program, Maya has moved into a head coach role alongside Jackson.  She is continuing to grow her understanding of the sport through a coaching lens and is excited for the opportunity to share her knowledge and love of the game in a fun and positive manner. Maya believes that the Jr Huskies program will provide a challenging atmosphere for young females to grow and continually improve their skills and understanding of the game while enjoying themselves and making new friends.
Coaching Resume:
Making Ethical Decisions – Multi-sport
Learn to Train – Soccer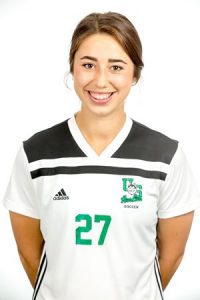 HANNAH COSTA – U17  Assistant Coach
In 2018, Hannah completed her third year of eligibility as a midfielder with the Huskies. On the field, she has been developing her ability to shoot from distance and deliver driven balls with precision. Off the field, Hannah is active in the community, devoted in her studies, and generous in her friendships with teammates and other Huskie athletes.
Born and raised in Saskatoon, Hannah is joining the Junior Huskie coaching staff this year as an assistant coach with the U17 program.  As a student in the College of Kinesiology, she will bring a unique passion for both soccer and strength & conditioning.  Hannah is looking forward to growing her experience as a coach and is excited to help these young women develop as soccer players and as athletes.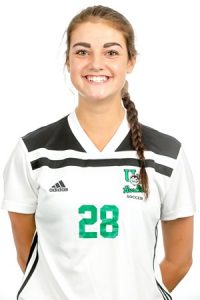 PAYTON IZSAK – U15 Head Coach
In her first year with the Huskie Women's Soccer team, Payton made a big splash in the Canada West scoring 6 goals and earning herself a spot on the Canada West All Rookie team. She played a large role in the Huskies reaching the Canada West quarterfinals scoring two playoff goals against Victoria. Payton is from Prince Albert and is currently studying in the College of Kinesiology.
Joining the Junior Huskies staff this year, Payton is an assistant coach with the U15 program. She is excited to share her experiences from her rookie season and to learn more about the game from a coaching perspective.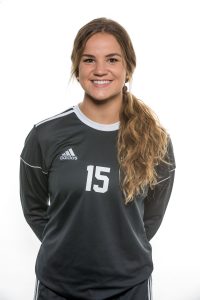 MCKENNA OLSON – U17 Assistant Coach
Heading into her 4th year with the Huskie Women's Soccer team, McKenna has become a dynamic element to the Huskie midfield. She is known for her attacking mindset and ability to shoot from far distances, often taking corners and free kicks for the Huskie squad. McKenna is from Saskatoon and is currently studying in the College of Education.
As an assistant coach with the U17 program, McKenna enjoys guiding the next generation of women's soccer athletes and sharing her experiences as a student-athlete.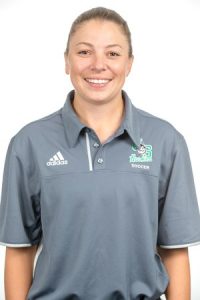 AMY PROKOP – Program Manager
Amy Prokop is entering her fifth season as an assistant coach with the University of Saskatchewan women's soccer team. Amy is the program manager for the Junior Huskie soccer program. She works closely with Jerson to manage the operational details and enjoys supporting the coaches and players in the program in any way needed.
Excelling in both basketball and soccer, Prokop played five seasons with the Huskie basketball team from 2004 to 2009. The former point guard helped guide the Huskies to their first-ever Canada West title in 2005-06. From Saskatoon, Prokop holds a Bachelor of Science in Kinesiology and a Bachelor of Commerce. She is now an Account Manager for Rock & Bloom – a creative agency in Saskatoon.